Cherubum Enema/Douche Kit
Cherubum Enema/Douche Kit
---
The Cherubum® Enema/Douche Kit includes components for use as a stand-alone enema kit or a stand-alone douche kit. The Cherubum Lavage Chair accessory is a perfect movable station for docking over most any toilet or other receptacle container and is to be used for the enema application only. The Cherubum Lavage Chair accessory is a safe, stable, and dignified solution for administering enemas, whether in a home or clinical setting.

The Cherubum® products set a new standard for administering enemas.  The Lavage Chair may be placed over the toilet anywhere in a 180-degree sweep over the bowl area, according to the spatial layout of your bathroom.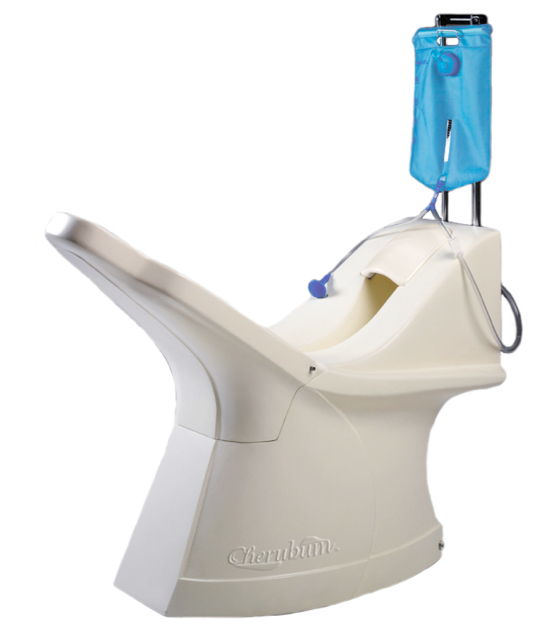 No prescription required.
Call for price.
Intended for use as:
• An enema kit to instill water or other fluids into the colon through a nozzle inserted into the rectum to promote evacuation of the contents of the lower colon.
• A douche kit to direct a stream of solution into the vaginal cavity in the treatment of medical conditions. Not for contraceptive use.
• per 21 CFR 876.5210 Enema Kit and Accessories and 21 CFR 884.5900 Therapuetic Vaginal Douche Apparatus operated by gravity feed. These are Class I [Exempt] Devices.

Components
Cherubum Lavage Chair:
Cherubum® Lavage Chair with folding backrest and two lavage chair flex tubes
Built-in recessed handles and wheels for easy maneuvering
Built-in telescopic handle and wire hanger for suspending an enema container
Quick connect male and female fittings
Splashguard
Cherubum Enema/Douche Kit:
Cherubum Enema/Douche Kit with 9L (2.37 gallons) water container
Y-connector with pull-on/push-off shower spray head on one side and 3 feet (.91m) of flexible vinyl tubing with thumb Clamp on other side
Two standard enema tips
One standard douche tip
Cherubum Accessory Tote:
Storage of components and accessories
Dimensions
Lavage Chair with backrest extended
56 L x 25 W x 38 H
Lavage Chair with backrest folded closed
46 L x 25 W x 36 H
Weight of Lavage Chair only
55 lbs